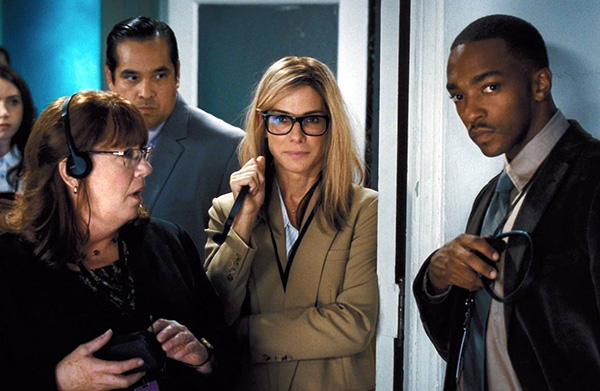 From left, Ann Dowd, Sandra Bullock and Anthony Mackie in 'Our Brand is Crisis.' Photo: Warner Bros. Pictures
Review: 'Our Brand is Crisis'
By: Jay Betsill
Scale of 1-10: 5
Oscar winners Sandra Bullock and Billy Bob Thornton are political strategy experts who are consulting on opposing sides of a South American presidential election in director David Gordon Green's cynical political satire "Our Brand is Crisis."
Bullock is "Calamity" Jane Bodine, who is brought out of a self-imposed exile to work on the campaign of Bolivian presidential candidate Castillo. The main enticement to lure Jane out of retirement is not helping Castillo get elected, but to do battle with her hated nemesis Pat Candy (Thornton). Castillo trails Candy's popular candidate Rivera by 28 points in the polls, so it will take nothing short of a miracle to turn the tide before election day.
Jane was a mercenary with a specialty of reviving campaigns back from the dead before she had a breakdown caused in no small part by Candy, who has defeated her in every election they have faced off against one another. Bullock gives a solid performance as Jane, while Thornton essentially sleepwalks through his scenes en route to the inevitable two-man presidential race.
As the film slowly meanders between each the respective campaigns and their underhanded tricks, it can't make up its mind between being a lowbrow comedy (if that's what you want to call a scene with a suicidal llama) or a topical drama. While attempting to walk the tightrope and play both sides, it fails to gain any momentum on ether front. In another sign of how the movie could not make up its mind, George Clooney, a producer of the film along with Grant Heslov, was originally intended to play the lead, which was eventually re-written for Bullock.
The idea for the movie originates from Rachel Boynton's 2005 documentary of the same name from the American involvement in the 2002 Bolivia election. Rather than take the faithfully adapting from its source material, the fictionalized version goes off in a myriad of directions that never quite come together.