Brief History Of WBAP Radio
WBAP (820 kHz) is an AM News/Talk radio station licensed to Fort Worth, Texas and serving the Dallas-Fort Worth Metroplex. WBAP is owned by Cumulus Media and broadcasts with 50,000 watts from a transmitter site in the northwest corner of Mansfield. It is a Class A clear-channel station, using a non-directional antenna. Its nighttime signal can often be heard throughout the Southern, Central, and Midwestern states and Northern Mexico, while its daytime signal provides at least secondary coverage from Oklahoma City to Austin. The station's studios are located in the Victory Park district in Dallas just north of downtown. WBAP is one of the oldest radio stations in Texas, dating back to 1922, when stations in Texas were still given call signs beginning with a "W" instead of a "K."
As of January 2017, WBAP remains the top-rated News/Talk station (source: WBAP Wikipedia). WBAP 820 AM studios are located at 3090 Olive Street, West Victory Plaza Suite 400, Dallas, TX 75219.
The history of WBAP Radio always starts with Amon G. Carter …but, Carter had to be talked into spending the money to experiment with this new concept called "radio". He approved Harold Hough's spending of "up to $300" to get a radio station on the air. Carter further stated "when that $300 is gone, we're out of the radio business."
Hough, the circulation manager of Carter's Fort Worth Star-Telegram signed the station on the air May 2, 1922. Hough was also WBAP's chief engineer, chief announcer and program director. The station started with 10 watts of power, which amounted to the 1920's version of electronic string and coffee-can communication.
Imagine starting a radio station, talking to an audience that wasn't there. After all, if Fort Worth didn't have a radio station, why on earth would anyone go out and buy one of those new radio boxes?
But WBAP grew….Amon Carter saw a way to make more money…and Harold Hough was given more money to spend. WBAP soon became a more powerful station, eventually becoming one of the few 50,000 watt, clear-channel stations in the United States. Today, according to an independent study, WBAP has the greatest daytime coverage of any radio station in America, and as much coverage at night as any other U.S. radio station.
The WBAP Studios have been housed in the Star-Telegram building, the Medical Arts building, the historic Blackstone Hotel (now the downtown Courtyard by Marriott), on Broadcast Hill in East Fort Worth, in Arlington and now next to the American Airlines Center in Dallas. The station was named by Herbert Hoover, then Secretary of Commerce and ex-officio head of what would become the Federal Communications Commission. According to Hoover the call letters stood for, "We Bring A Program."
Music was a major part of WBAP's programming from the beginning. Live, in-studio broadcasts were scheduled which featured musicians on WBAP such as The Light Crust Doughboys, The Sunshine Boys, Bewley's Chuck Wagon Gang and many more.
News has been a major WBAP commitment from the early years, and WBAP has been home to some of the best newsmen in America including regionally and nationally known journalists such as Porter Randall, Hal Thompson, Frank Mills, Jim Byron, Neil Hackett, Bob Scheiffer, Ted Gouldy and Joe Holstead.
You're no doubt familiar with the NBC chimes, but did you know that WBAP set the precedent for this by being the first radio station to have an audible logo signal….the WBAP cowbell, which is depicted in the early version of the WBAP logo. WBAP was the first radio station to air livestock market reports and the first radio station to air remote broadcasts of weekly church services. All these historic "firsts" came during the first six months of operation for WBAP.
In early 1923 (still in the first year of WBAP's history) the station became the first ever to broadcast a rodeo…the Fort Worth Stock Show and Rodeo. Other WBAP firsts include: the first radio station in the southwest to broadcast a baseball game and a football game, the first radio station in America with regularly scheduled newscasts, the first station to air remote broadcasts by shortwave radio and the first individual station to send a war correspondent to Europe in the early days of World War II.
Over the 90 years of WBAP's history, the station has continued to be a leader in the broadcast industry…being FIRST in many features that today are commonplace in the radio industry.
---
A Piece of WBAP History Comes Home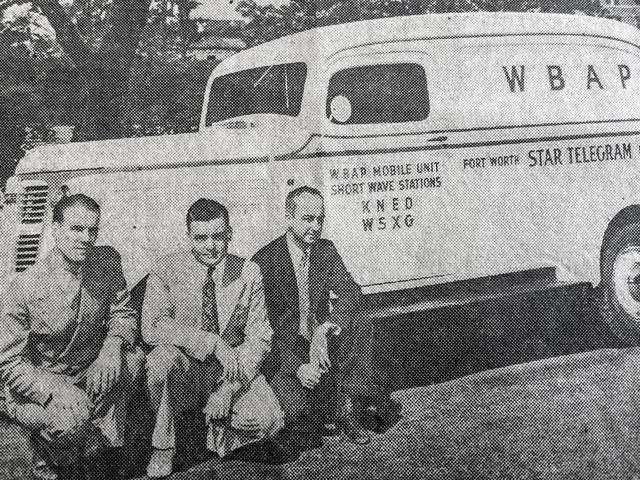 Until the mid 70's, WBAP shared the 820 and 570 frequencies with then WFAA Radio. (Oddly enough, 820 and 570 are now both part of the Cumulus family.) Whenever WBAP would switch from one frequency to the other, the station would ring a cowbell, appropriate for being in Fort Worth and cattle country.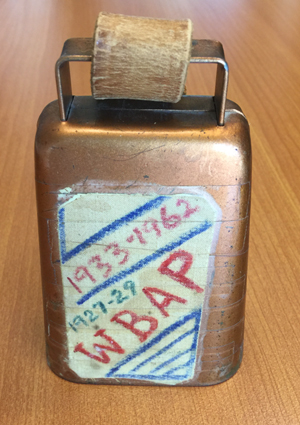 The ringing of the bell goes back further than that, to the 1920's, when a bell was rung when the station signed on the air in the morning.
The audio signature of the cowbell has long been a part of the legendary history of WBAP. It was still part of the WBAP audio identification until 1993.
An engineer named J.E. Bridges was the man who rang that bell in the 1920's. He was with WBAP from 1927-29 and then back from 1933-62. Part of his job was ringing that bell. Bridge's daughter Ell has brought that very bell to us. He gave it to his children before he passed away many years ago, and they decided it belonged "back home".
Ella Bridges, daughter of former WBAP engineer J.E. Bridges, looked through a 1941 WBAP Photo Album during her visit with then Program Director Tyler Cox. It brought back many memories for her.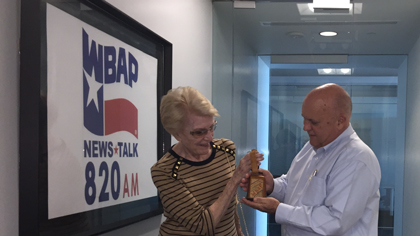 Associated Press Materials Note
Associated Press text, photo, graphic, audio and/or video material shall not be published, broadcast, rewritten for broadcast or publication or redistributed directly or indirectly in any medium. Neither these AP materials nor any portion thereof may be stored in a computer except for personal and non-commercial use. AP will not be held liable for any delays, inaccuracies, errors or omissions therefrom or in the transmission or delivery of all or any part thereof or for any damages arising from any of the foregoing.
Let us know what you think.
We appreciate your listening and want to hear from you!