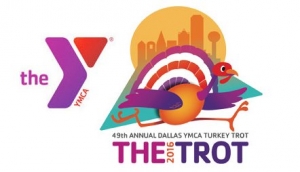 DALLAS  (WBAP/KLIF News) – It's been a tradition since 1968. Thousands of runners will pack the streets of downtown Dallas today to participate in the annual Thanksgiving Turkey Trot.
The Dallas YMCA's Sarah Byrom said the 5K and 8K races, which start at 9 a.m. at City Hall, will take runners along a scenic route.
"The route takes them all through downtown. It takes some portions through Deep Ellum. It also goes across the bridges to Oak Cliff and back at the Jefferson viaduct. So, you kind of get a look through all parts of downtown," she said.
For those that can't attend, Byrom said there is a virtual race available online.
"We have a lot of people that run the race year and year but some years they have to go to Grandma's house out of town. So, this year they can do the race from the road," said Byrom.
It costs $35 to register for the race and it's $40 if you want to be timed.
Proceeds from the event will benefit numerous YMCA programs including after school initiatives across 80 school sites, Safety Around Water Programs, LIVESTRONG the YMCA Cancer Collaborative, YMCA Cancer Collaborative as well as scholarships for those with disabilities.
Copyright 2016. WBAP/KLIF News. All Rights Reserved.