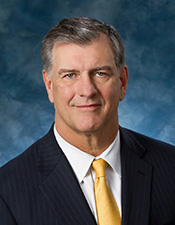 DALLAS (WBAP/KLIF) – Dallas City Council members are reacting to the resignation and guilty pleas of former Mayor Pro-Tem Dwaine Caraway.
"We're required to abide by public trust and he's going to have to be held accountable for his actions," said City Councilman Lee Kleinman. "It's a poor reflection on City Hall and we have to restore the public trust."
According to the U.S. Attorney's Office, Caraway pleaded guilty to one count of conspiracy to commit honest services wire fraud and one count of tax evasion. According to Plea Agreements, Caraway accepted $450,000 in bribe and kickback payments in the form of a phony consulting agreement, luxury suits, fully funded trips, gambling money, repayment of personal debt, checks and cash. It's a scheme that likely contributed to the demise of Dallas County Schools. Caraway resigned from the Dallas City Council before entering his guilty plea. 
"As we all now know, the corruption at Dallas County Schools extended beyond the confines of that now shuttered organization," said Dallas Mayor Mike Rawlings. "As your mayor, I am saddened by what we learned today about the actions of one of my former colleagues. I am sad for the city, especially the citizens of District 4, and for Mr. Caraway's friends, family and supporters."

Rawlings said Caraway championed much good in his time in public service, particularly for the youth Dallas.
"I appreciate that he [Caraway] is admitting his crimes and sparing the city what could have been a drawn out legal battle," said Mayor Rawlings. " This city is so much bigger than any one politician who lost his way."
Copyright 2018.  WBAP/KLIF News.  All Rights Reserved.