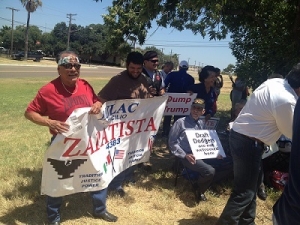 Laredo (WBAP/KLIF News) – A group of mayors and county judges along the Rio Grande has released a statement in opposition to Donald Trump's call to "close up" the border. Trump made the suggestion after the terrorist attacks in Brussels this week.
The Texas Border Coalition includes eight mayors, a city commissioner from McAllen, the Zapata County Judge and several business leaders.
"Closing our land border with Mexico would be a ridiculous staging of security theater: the practice of false efforts intended to provide the feeling of improved security while doing little or nothing to actually achieve it," the coalition writes in a statement.
The coalition calls the effort to protect the Southwest border a success story, saying more currency, drugs and weapons are being seized than ever.
"The Southwest border security team needs more resources, not false efforts to that harm morale and the economy," the coalition writes.
The coalition includes the mayor of Laredo. Earlier this month, Pete Saenz appeared on the Fox Business network and declined to rule out the possibility of voting for Donald Trump.
"Obviously, as a mayor, I need to stay neutral," he said. "There is still so much ground to cover here. But it's interesting times, believe me."
When asked if that amounted to an "absolute no," Saenz said it did not.
(Copyright 2016 WBAP/KLIF News. All rights reserved)