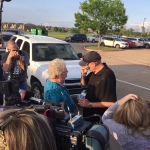 MIDLOTHIAN (WBAP/KLIF NEWS) – The husband of murdered fitness instructor Missy Bevers says he's found peace and strength by leaning on god.
Brandon Bevers talked with reporters outside Midlothian police headquarters.
His 45-year-old wife was killed inside the Creekside Church in the early morning hours of April 18th after she arrived to teach a class. No arrest in the case.
Police still have not named any suspects or a motive in the slaying.
Copyright 2016 WBAP/KLIF News All rights reserved