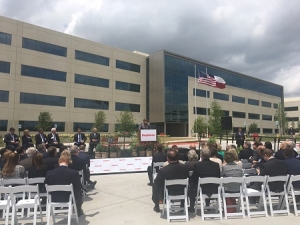 Richardson (WBAP/KLIF News) – Raytheon has opened a campus in Richardson along Bush Turnpike, east of Highway 75. The facility will house Raytheon's Intelligence, Information and Services.
"We have some of the top engineers, developers, cyber-experts and scientists, not only in the defense industry, but in the world," says IIS President Dave Wajsgras.
Wajsgras says Raytheon was looking for a more modern structure than its campus in Garland, which was built in 1952. He says the new campus will allow it to process more data from unmanned airborne and space-based operations.
"Each day, we process as much as nearly 50,000 copies of Encyclopedia Britannica for those of us who actually remember hard copies of the Encyclopedia Britannica."
Governor Greg Abbott attended Monday's ribbon cutting. He says Raytheon's expansion shows that Texas is becoming a more diverse economy.
"A lot of people know Texas as an energy-based state, and we are, bur we are also showing that we are so much more," Abbott says. "Texas is showing that it is a destination for high-technology employers as well as high-skilled employees."
Raytheon will employ a total of 2,000 people in Richardson. The company says it contributes to 27,000 jobs across the state.
(Copyright 2016 WBAP/KLIF News. All rights reserved)