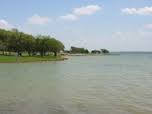 Updated at 3:50 p.m.
Grand Prairie (WBAP/KLIF News) – The body of an Arlington man lost and presumed to have drowned at Joe Pool Lake was found Monday afternoon at 1:15 p.m.. Texas Parks and Wildlife along with Grand Prairie's Lake Patrol, Police and Fire Departments used sonar technology to locate and recover, 57 year old Walter Harrison III, from the lake floor.
At 3:45 Sunday afternoon, Grand Prairie Police and Fire responded to a call from Joe Pool Lake. The caller said that a family member had jumped off their boat without a life jacket. Shortly afterwards the man was seen struggling and yelling for family members to come retrieve him.  Before they could he slipped under water and never recovered. First responders searched for the man until 9 p.m. Sunday and their search resumed Monday morning at 7.
This is the second drowning at Joe Pool Lake this year.
Original story
Grand Prairie (WBAP/KLIF News) – The search resumed this morning for a man who jumped into Joe Pool Lake on Sunday and never resurfaced. His family told officials that they were on a pontoon boat when the man jumped into the water without a life jacket on to cool off.
The Grand Prairie Police and Fire Department Search and Rescue began looking for the man just after 4 pm. The departments are using sonar equipment near the lake's dam to try and find him. Officials said at this point, the man is presumed drown and it is a recovery mission.
They said the search could take two to three days.
Copyright 2016. WBAP/KLIF News. All Rights Reserved.