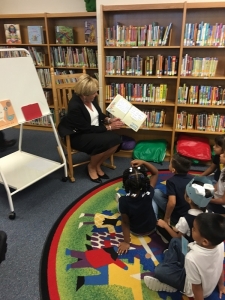 Ft. Worth (WBAP/KLIF News) – The Fort Worth Independent School District has launched its campaign to help 100 percent of third graders read at grade level by 2025. Right now, just 30 percent of third graders are meeting current standards.
Mayor Betsy Price, Superintendent Kent Scribner and BNSF Railroad Executive Chairman Matthew Rose met with kids at Oakhurst Elementary School Monday morning.
"Our businesses know they have to have a steady stream of workers coming in," Price said after reading a story to kids.
The Fort Worth Literacy Partnership aims to bring together business, education and philanthropic leaders.
"It's really important for the district, for the city, for the community," Rose says. "It's not acceptable, long-term, to have our school district not preparing kids to read."
Ft. Worth is also developing a web site that lets families track and compare reading achievement at the city's 83 elementary campuses.
"It's going to come down to parent involvement, quality of teacher, teacher retentiveness," Rose says. "Maybe we need to look at some of the conventional things we've had in the past, such as school hours."
The partnership also hopes to expand volunteer reading programs and develop a summer reading program to be launched in 2017.