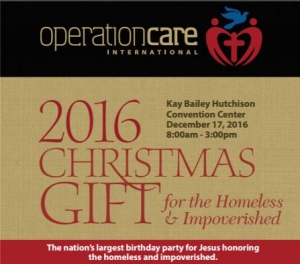 Dallas (WBAP/KLIF News) – Operation Care International, a Dallas-based service group for the homeless and families living in poverty, says they urgently need children's' coats for tomorrow's big event downtown.
Their "Christmas Party for Jesus" will serve an estimated 25,000 people from 8:00 Saturday morning until 3:00 in the afternoon, at the Kay Bailey Hutchison Convention Center downtown.
But they still need children's coats, and are asking you to help out.  Click here to go to the operation care international website…there you can find information on how to donate and volunteer.
President and Founder Susie Jennings says they also need blankets, sleeping bags, children's and adult's shoes and socks, and monetary donations.
Copyright 2016, all rights reserved