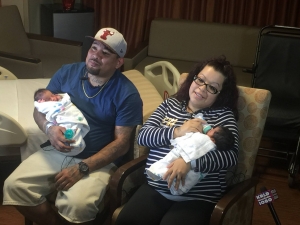 ARLINGTON  (WBAP/KLIF News) – An Arlington family received a New Year's gift that some are calling a one-in-a-million occurrence.
Cassandra Martinez was supposed to deliver her twin boys on January 20, 2017 but nature had other plans.
Her fraternal twin babies were born on different days on both sides of the new year.
Jordan Jeremy Sanchez was born at 11:46 p.m. on New Year's Eve. J'aiden Michael Sanchez was born at 12:12 a.m. on New Year's Day.
J'aiden Sanchez is also the first baby born at Medical City Arlington in 2017. Cassandra Martinez said she was overjoyed.
"I definitely was not expecting to spend the holiday in hospital, but I'm glad they're here and healthy," she said Cassandra Martinez. "Way better than the ball drop!"
The Sanchez twins are the third set of twins of this generation in their father's family.
Copyright 2016. WBAP/KLIF News. All Rights Reserved.