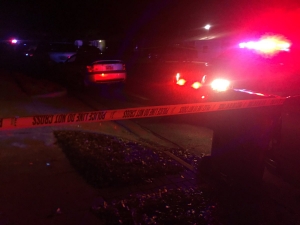 ALLEN  (WBAP/KLIF News) – A days-old argument between two groups of people that escalated on Facebook led to a shooting Allen Tuesday night.
The Allen Police Department said that disagreement was between nine people from South Dallas and seven from Allen.
Sergeant John Felty said the Dallas group drove to a home on Hawthorne Drive near South Jupiter Road in Allen for a confrontation. He said it was about to end peacefully when someone fired shots.
"Well I can't imagine what would be so important that it would end like this. It is a tragedy," he said.
Four people were shot and taken to the hospital with non-life threatening injuries. Officers detained eight of the nine from Dallas and the other, who police believe fired the shots, is in custody.
"The good news is… if there is any good news in this… is that the people that are responsible for this are detained or in custody," he said.
The fact that the shooting stemmed from a Facebook argument was not lost on authorities.
"We've had social media disagreements for quite some time but never to this degree where it turns into a shooting," said Fenty.
The department is still investigating what caused the situation to escalate.
Copyright 2016. WBAP/KLIF News. All Rights Reserved.