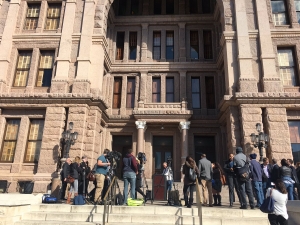 Dallas (WBAP/KLIF News) – As the state legislature starts its business for 2017, advocates in the Metroplex are urging lawmakers to reject Senate Bill 6, which would put restrictions on transgender bathroom use.
The bill would require people to use the bathroom of their physical gender in restrooms controlled by government agencies, such as schools and parks.
The bill was introduced by Lois Kolkhorst (R-Brenham). Lieutenant Governor Dan Patrick labeled the issue a priority.
Patrick says the measure would not have the same effect on the economy in Texas as North Carolina. After the law was passed there, the NBA moved the 2017 all-star game out of the state, and the NCAA said it would move 15 college championship events.
"Could the NCAA say they don't want to play here? Maybe," he says. "But I'm not going to let anyone blackmail us. We're the tenth largest economy in the world. Our economy's bigger than Russia."
"If the governor and other elected officials want to kiss billions of dollars of business goodbye, this is one step in which they could do that," says Cece Cox, the chief executive officer of the Resource Center of Dallas.
Cox says the transgender population already deals with a high suicide rate. Senate Bill 9, she says, would add to the divide, saying transgender people have been using public restrooms without state intervention for decades.
"All of a sudden, someone with an agenda has decided this needs to be an issue, so we can get everybody riled up," she says.
The Texas Association of Business has urged against passage of the law. The group says the bill could lead to the state losing 185,000 jobs and $8.5 billion in economic activity.
(Copyright 2017 WBAP/KLIF News. All rights reserved)