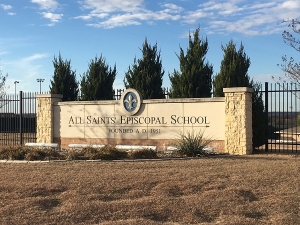 Ft. Worth (WBAP/KLIF News) – Students from All Saints Episcopal School in Ft. Worth have returned from the presidential inauguration in Washington DC. A group of students attended the inauguration, workshops with students from other parts of the country and met with the staffs of Texas lawmakers at the US Capitol.
"It's wonderful to see what we do in our classrooms actually come to life," says Ann Baldwin, the chair of the school's history department.
"It was amazing to see people flooding into Washington DC from all over the country and all over the world," says Grace Evans, a senior at All Saints.
Baldwin has attended three inaugurations.
"Not to say one was better than the other, they were just different," she says. "I'd say this was a little more subdued because Obama's, especially the first one, was so historic."
Baldwin says the inauguration gives students a civics lesson but also offers a lesson in constitutional rights. She says she talked with her students about how protestors were showing their right to assemble.
"Gathered in the National Mall, there were thousands of Trump supporters," says Cade Crow, also a senior. "Then, in less than 24 hours, there were thousands of people protesting."
Evans says the trip gave her perspective that she might have missed just reading about the inauguration.
"It was absolutely surreal," she says. "It was hard, sometimes, to step back and see the entire picture because we were right in the middle of it."
Crow says the workshops gave him a chance to learn the perspective of students outside Texas.
"What surprised me the most is I met a student whose parents were from Cuba," he says about working with students from Miami. "The way he felt about immigration is it should be extremely restrictive."
(Copyright 2017 WBAP/KLIF News. All rights reserved)