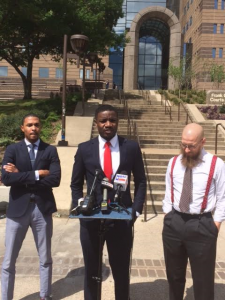 A local activist group says it won't be satisfied until the Balch Springs Police Officer charged with murder in the shooting death of Jordan Edwards is indicted.
Minister Dominique Alexander, President and Founder of the Next Generation Action Network, was grateful to Dallas County District Attorney Faith Johnson for charging former Officer Roy Oliver with murder, but said his group wants more.
"We have a few requests," Alexander said. "We ask that a special prosecutor be assigned to the case due to a conflict of interest."
Alexander claimed that the Dallas County District Attorney's Office will have an ongoing working relationship with the Balch Springs Police Department, in turn creating a conflict of interest in the case.
"We ask that the conflict of interest be removed by appointing a special prosecutor that does not have any dealings or ties inside Dallas County," said Alexander.
The activist group is also calling for a federal investigation into the Balch Springs Police Department.
A rally for Jordan Edwards will be held by The Next Generation Action Network Tuesday night in downtown Dallas.