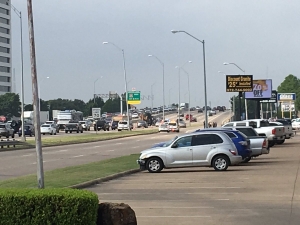 RICHARDSON (WBAP/KLIF News) – Richardson police are investigating a road rage shooting that left one person dead Thursday morning.
Officers were called to the scene along U.S 75 near Campbell Road around 6:30.
Sergeant Kevin Perlich said when officers got the scene, they found one person dead inside a car on the side of the road. He said witnesses described an altercation shortly before the shooting.
"The two vehicles were going back and forth. There were reports of erratic driving. They came to a stop at the red light here at Arapaho. Some more words were exchanged and a single gunshot sound was heard," he said.
Some witnesses were initially confused as to what was going on.
"It wasn't until they got down to the actual stoplight. Where the stopped and exchanged some words…where it was clear that it was a road rage type of thing and not just somebody kind of racing with each other," said Perlich.
After the shooting, the suspect took off east on Arapaho in a white car and is still on the loose. The victim, who police identified as 27-year-old Robert Klikus, drove straight into a pole after being shot.
The Richardson Police Department is asking anyone with information to contact their department.
Copyright 2017. WBAP/KLIF News. All Rights Reserved.