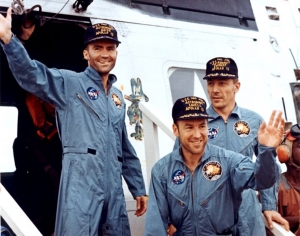 DALLAS (WBAP/KLIF) – The two surviving members of the Apollo 13 flight told their story to a Dallas audience.
Jim Lovell and Fred Haise narrowly escaped death when, along with crew mate Jack Swigert, they managed to bring their crippled Apollo 13 spacecraft back to Earth.
Lovell remembers significant events from the flight well.
"Sometimes you maybe forget what exactly happened and somebody like Fred will say, 'Now, wait a second, Jim, this is the way it happened,'" said Lovell.
Haise recalls that after the oxygen tank explosion that crippled their spacecraft, they did not quickly realize the seriousness of the problem.
"We lost one oxygen tank, we had a second one which for a little bit didn't appear to be leaking," said Haise. "I thought we would just abort."
The flight ended up having to fly around the Moon for fear that using the abort engine would cause even more problems. The astronauts endured days of cold temperatures as they had to power off nearly everything.
The astronauts spoke at the Frontiers of Flight Museum Gala Thursday night at Dallas Love Field.
Lovell, who didn't fly in space again, hopes NASA will eventually go back to the Moon.
(Copyright 2017, WBAP/KLIF. All Rights Reserved.)
To hear WBAP's Eric Bushman feature report after speaking with Jim Lovell and Fred Haise, click below.