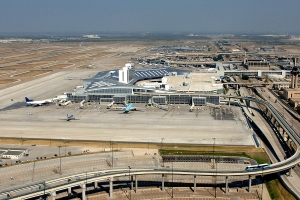 GRAPEVINE (WBAP/KLIF)- DFW Airport is helping customers save money for upcoming Thanksgiving travels.
Bill Begley with the DFW Airport says they're offering a one week sale on terminal express parking for $7.99 a day, saving people up to 66%.
The deal offers customers savings and the convenience by booking their parking in advance.
Customers must purchase parking prior to arrival through DFW's Prepaid Parking Online system at dfwairport.com/park or the DFW Airport mobile app Wednesday, Nov. 13 (12:00 a.m. CST) through Wednesday, Nov. 20 (11:59 p.m. CST). The Discount is valid for travel Friday, Nov. 22 through Tuesday, Dec. 3.
"We want to make sure that during the Holiday season we are offering them an opportunity to do this as economically as possible..we want them to be able to come to the airport without worrying how much a spot is or where to find one when they are traveling to see family this holiday season," Begley said.
DFW Airport has a total of 28,000 spaces. Regular rates for Terminal Parking is $24 per day. Express Parking offers covered and uncovered parking near the North and South entry/exits of the airport with direct shuttle service to all terminals. Regular rate for Express Parking is $15 and $12 per day for covered and uncovered parking, respectively.
Begley said they anticipate over 2.2 million travelers coming through the airport this Thanksgiving holiday and wants the travel process to be more affordable and less stressful. He tells travelers to give themselves plenty of time and utilize the DFW Airport app and website to check TSA wait times.