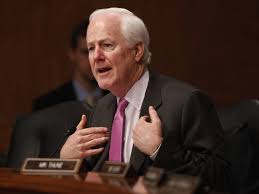 DALLAS (WBAP/KLIF) – Senator John Cornyn anticipates if the House passes Articles of Impeachment, it will lead to the Senate sitting through a trial at the beginning of the coming year.
Whether the Senate votes to convict President Donald Trump though is something Senator Cornyn does not think will happen.
"It's completely unacceptable, here less than a year before the election, to tear the country apart, to paralyze Congress and preclude us from doing other important work for the American people, in pursuit of an impeachment that will not succeed in removing the president," Cornyn said during a conference call Wednesday.
Cornyn says it remains to be seen what a January trial would do to the Iowa Caucus and New Hampshire Primary happening at the same time.
"It remains to be seen what the politics of all this will be," Cornyn said. "I do think there's going to be some backlash associated with this partisan process here so close to the election."
(Copyright 2019, WBAP/KLIF. All Rights Reserved.)