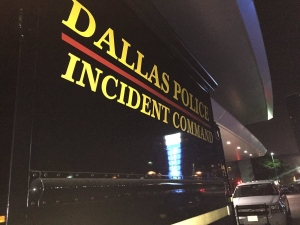 DALLAS (WBAP/KLIF)- The proposed plan by several Dallas City Councilmembers to defund or reduce funding for the Dallas Police Department is drawing strong opposition of Dallas voters, according to a new survey released by the Texas Stabilization Impact Fund, a non-partisan political action committee.
The telephone survey was conducted by Cherry Communications, a polling firm based out of Florida. 354 Dallas voters completed the survey August 12 – 17, 2020 through both land lines and cell phones. The survey has a margin of error of +/-5.2%.
According to the survey, an 74% of voters approve of the overall job performance of the Dallas Police Department and Dallas police officers. 66% oppose efforts to defund or reduce funding for the Dallas Police Department.
Councilmembers who vote to defund or reduce police funding will likely face a backlash in next May's municipal election. 54% of survey respondents said they are unlikely to vote for a Councilmember who makes such a vote. 29% said such a vote would make them more likely to vote for that Councilmember.
"The families of Dallas are sending a clear message to Dallas City Councilmembers – support our police officers and do more to help them protect our neighborhoods or face defeat in next year's City Council elections," said Mike Mata, President of the Dallas Police Association. "As the final vote nears for the next city budget, Dallas police officers will continue working with the Councilmembers to adequately fund law enforcement services in every part of the city. Should the City Council opt to cut funding or defund the police department, our poorest neighborhoods will once again pay the price with more violent crimes."
Mata added that the results of the survey is a morale boost for officers. "We are taking what appears to be a beating, we have officers who are getting murdered…so having a message like this from the community and from the citizens that we protect, just helps us feel better about coming to work everyday and why we do it," said Mata.
The Dallas City Council will vote on the city's budget next week. Mata said if council is going to re-allocate funds, they need to be in social service areas that are going to reduce the stress of call loads. "In categories that we have no business responding to like mental health calls, drug addiction calls, homeless calls," said Mata.
Survey respondents were asked their opinions on proposed funding plans for the Dallas Police Department. Below are the responses to questions about these options:
• As you may know, several Dallas City Councilmembers have proposed – in their words – to defund the Dallas police department in response to high profile cases of brutality by law enforcement across the country. Based on what you know today, would you say you support or oppose this proposed plan to defund the police department? 24% support defunding police. 66% oppose defunding police.
• Some City Councilmembers have suggested the surge in violent crimes and murder in Dallas proves we need to increase police funding – or at least keep funding the same. They want to give Dallas police officers all the support and tools they need to better patrol neighborhoods and protect our families from violent crime. Based on what you know today, would you say you support or oppose this idea to increase or keep police funding the same? 69% support increased funding or keeping funding the same. 24% oppose.
• As the City Council gets ready to debate Dallas' next annual budget, when it comes to police funding, which of the following would you like to see the city council do:
– Defund the Dallas police department – 4%
– Increase funding or keep funding the same for the Dallas police department – 66%
– Remove funds from the Dallas police department and use it for other city services – 25%
Survey respondents were then read three statements they may hear as the City Council debates police funding. For each statement, they were asked if they agree or disagree.
• With a surge in violent crime and more than 130 murders this year – including 7 in one week – it's time the police chief and City Council got serious about fighting crime and allow police officers to take a more comprehensive approach to removing violent criminals from our neighborhoods. 67% of respondents agreed with this statement. 19% disagreed.
• The Dallas Police Department is several hundred officers short of being fully staffed. It's been said that this shortage of officers in our neighborhoods and the lack of patrols in high crime areas is a big reason Dallas is suffering from an increase in violent crime and murders. 64% of respondents agreed with this statement. 30% disagreed.
• The overwhelming majority of Dallas police officers are honest and hardworking men and women who treat residents with respect no matter the race, gender, sexual orientation or income of the resident. 76% of respondents agreed with this statement. 18% disagreed.