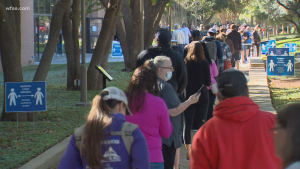 Austin, TX (WBAP/KILF) – A Texas voting rights advocate is blasting a Texas House Election Committee for advancing what he calls "One of the worst attacks on voting rights since the Jim Crow Era."
H. Drew Glloway, executive director of MOVE Texas Action Fund said that despite over 21 hours of testimony from hundreds of Texans and staunch opposition from corporations across the state, "shameless lawmakers in Austin slipped through and advanced this wildly unpopular and anti-democratic legislation."
The bill is similar to the highly criticized Texas Senate Bill 7, which further limits mail in balloting and extended voting hours among other things – as an election security measure.  Republicans defend the bill as a "election security" measure, and comes on the heels of the 2020 election which was labeled by the former Trump administration election security chief as "the most secure in US history."
After the election the out-going President Trump spent months claiming that he lost because of voter fraud. Dozens of legal claims were thrown out by courts, including the U.S. Supreme Court.
House Bill 6 now moves to the full state legislature.
Everything is bigger in Texas, including the voter suppression. Now anti-voter House Bill 6 heads to the house floor where we will continue to fight.

Posted by MOVE Texas on Thursday, April 8, 2021
MOVE Texas Action Fund Executive Director H. Drew Galloway issued the following statement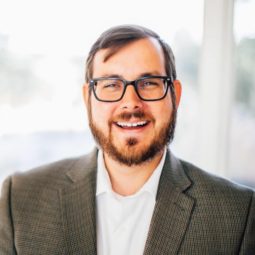 "They actually did it. Despite more than 21 hours of testimony, with hundreds of Texans from every corner of the state camping out at the Capitol to voice their staunch opposition to this egregious assault on voting rights, and corporations across the state screaming at the top of their lungs how bad this bill would be for Texas business, shameless lawmakers in Austin slipped through and advanced this wildly unpopular and anti-democratic legislation.
"Make no mistake: everybody from the business community to the disabled community opposed this dangerous and undemocratic piece of legislation. Making things even worse, proponents of this measure were so eager to rush this bill through the legislative process that Briscoe Cain, the chair of the elections committee, abruptly ended the first hearing on the bill rather than hear input from the chair of the Legislative Black Caucus, Rep. Nicole Collier. It's disgusting, abhorrent, and emblematic of who our state leaders have become.
"In a state that ranked 44th in voter participation in 2020, where we have the most restrictive voting laws in the country, there is simply no justification for stripping honest, eligible Texans of their constitutionally guaranteed right to vote.
"This proves once again that voter suppression is bad for our state and bad for our economy. It's abundantly clear what this measure is really about: elected officials know they can't win on the issues and the rising Texas electorate is coming so they have to rig the rules of the game.
"At MOVE Texas, we condemn this measure in the strongest possible terms. This is not over. We will continue to fight tooth and nail to ensure that every eligible Texan has equal access to the ballot box. In an honest democracy, nothing is more fundamental. We are all hands on deck."
After the passage of the controversial Senate Bill 6, Lt. Gov. Dan Patrick, who strongly supports the bill issued a statement following American Airlines criticism of the bill. The Fort Worth based carrier said, among other things, the bill will "make it harder for Texans to vote."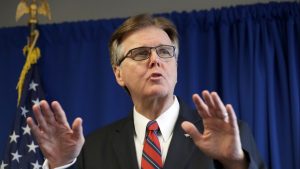 "As Lt. Governor of Texas, I am stunned that American Airlines would put out a statement saying 'we are strongly opposed to this bill' [Senate Bill 7] just minutes after their government relations representative called my office and admitted that neither he nor the American Airlines CEO had actually read the legislation.
"We heard these same outcries claiming voter suppression in 2011 when Texas passed the photo voter ID bill. In fact, just the opposite occurred. Voter turnout in Texas soared from 7,993,851 in 2012 to 11,144,040 in 2020, a 39 percent increase. Gubernatorial election voter turnout has increased by 76 percent since photo voter ID was passed.   
"Texans are fed up with corporations that don't share our values trying to dictate public policy. The majority of Texans support maintaining the integrity of our elections, which is why I made it a priority this legislative session. Senate Bill 7 includes comprehensive reforms that will ensure voting in Texas is consistent statewide and secure.
"By the way, this is the same American Airlines that in 2017 led the fight to try to force us to allow boys to play girls sports in Texas and take away their scholarships. They are probably still fighting for that today and it is likely they have not read Senate Bill 29 either."
Copyright 2021 WBAP/KLIF. All rights reserved.