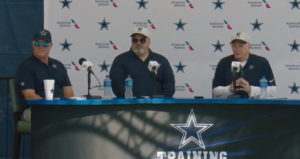 OXNARD (WBAP/KLIF) – The Dallas Cowboys officially kicked off the start of training camp in Oxnard, California on Wednesday.
The team held camp in Frisco last year because of COVID restrictions. Owner Jerry Jones said Wednesday that most employees have been vaccinated for COVID-19.
"Everybody here in what we call tier 1, tier 2, and tier 3, are vaccinated for the most part," Jones said.
Regarding his players, Jones said only a handful of them have yet to commit to getting the vaccine.
While speaking with reporters, Jones insisted he feels as driven as he did when he bought the team.
"I was scared to death then and I'm scared to death now," said Jones. "I worry about what's happening out here around the economy, the COVID. I worry about our place in the NFL, and in sports."
But Jones said there isn't a place in the world he'd rather be right now than with his team.
Copyright 2021.  WBAP/KLIF News.  All Rights Reserved.