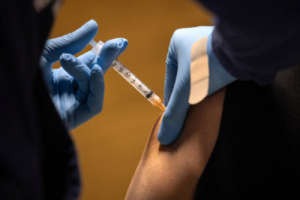 DALLAS (WBAP/KLIF)- Infectious Disease experts at UT Southwestern explain why are seeing a rise in Covid-19 cases, hospitalizations and deaths.
UTSW Dr. Brad Cutrell said this surge is driven by two main factors: The Delta Variant, which is more contagious and lagging vaccination rates.
Cutrell said the total number of people hospitalized for COVID-19 in North Texas is expected to increase sharply over the next several weeks.
"Hospital volumes have risen 89%  over the past two weeks, and at the current pace of vaccinations, levels of hospitalization by October that approach those seen in the surge in the first months of this year and substantially higher than those during the surge last summer," he said.
Cutrell also indicates the increasing number of new cases of COVID-19 and subsequent hospitalizations also reflects the large numbers of individuals who are not yet vaccinated .
He said people under 65 now make up the largest share of hospital admissions in most North Texas counties, so it remains important to
increase vaccination rates in this age group.
"For those who have not yet been vaccinated, continued personal adherence to indoor masking, physical distancing, and other interventions recommended by health experts will be necessary to protect the health of Texans who are currently unvaccinated or who may be immunocompromised," he said.
Delta appears to have become the dominant variant in the state of Texas, surpassing the Alpha variant (also known as B.1.1.7, first
identified in the UK).
By August 9th, Dallas County total COVID-19 hospitalizations are predicted to reach 400-500 hospitalized cases  and Tarrant County Tarrant County total COVID-19 hospitalizations are predicted to reach 520-700 cases
Also by that same date, UTSW data suggests roughly 620 new COVID-19 infections per day from each of those counties are expected.
Doctors are encouraging everyone who has not yet got the vaccine to do so.
UT Southwestern has launched an online scheduling portal where all Texans – age 12 and up – can schedule a vaccination appointment: utswmed.org/vaccines.