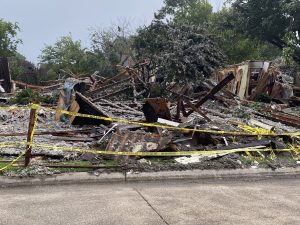 UPDATED 7-21 at 5 PM
The Plano Police Department now says a house explosion earlier this week, that injured 6 people, may have been intentionally set.
Initially investigators said the explosion was caused by an isolated gas leak.
The home on Cleveland Drive was completely destroyed in the blast. 3 children were among the victims.
Investigators say it is an isolated incident and there is no threat to the community.
Plano (WBAP/KLIF) – An update on the condition of the those injured by a massive home explosion on Cleveland Drive in Plano last Monday.
Five of the six people who were injured were members of one family – including 3 children – who were inside the house right next door.
Jennifer Jagielskis used her body as a shield protecting one of her three children, according to a family friend who was interviewed by our media partner, WFAA.
Mae Reedy says her that the family was only expected to be in the home temporarily as a new home is being built elsewhere.
Mrs. Jagielskis, her husband Philip, and the man who was inside the house that exploded remain hospitalized. The children escaped with minor cuts and bruises; they are staying with family members.
Watch:
(Copyright 2021 WBAP/KLIF 24/7 News. This report contains material from the WFAA-TV)