(WBAP/KLIF) — Texas Department of Public Safety crews have cleared out a prison 100 miles north of Laredo to make room for illegal immigrant detainees.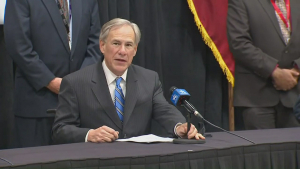 According to Jeff Monosso, the Texas governor Greg Abbott is expecting upwards of 200 apprehensions a day.  Texas takes on the border surge crisis, by arresting illegal immigrants for trespassing.
Abbott says it's part of the state's heightened border security effort.
Listen to Fox News report:
(Copyright 2021 WBAP/KLIF Newsroom News.  All rights reserved.  Contains material from Fox News.)