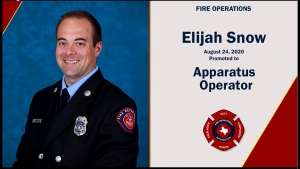 Arlington (WBAP/KLIF) – The Arlington Fire Department is grieving the loss of one of their comrades. 35-year old Elijah Snow died under suspicious circumstance while vacationing with his wife at a Cancun resort.
Arlington Batallion Chief Jackie Parker told WFAA, the couple was celebrating their 10-year wedding anniversary.
He says that Snow's wife called police when he didn't return to their room after stopping going to a resort bar. His body was found Monday.
A visitation will be held for Snow on Monday, July 26 from 6:00 to 8:00 p.m. at Moore Funeral Home in Arlington. A celebration of life will be held on Tuesday, July 27 at 10:00 a.m. at Rush Creek Church. In lieu of flowers, donations can be made to The APFF Charitable Fund (501c3), with a note that it is for "Elijah's Family."
Parker says Snow's body was found outside, near a resort hotel and that the family is working with independent investigators to determine what happened.
(Copyright 2021 WBAP/KLIF 24/7 News. This report contains material from the WFAA-TV)