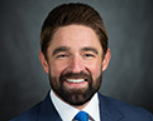 AUSTIN (WBAP/KLIF) – A state representative from DFW is working to require legislative input on a potential conference change by the University of Texas.
UT, and the University of Oklahoma, reportedly will soon announce a desire to leave the Big 12 for the SEC.
State Rep. Jeff Leach of Plano contends the Texas legislature has an obligation to be involved in the decision he says has monumental economic and educational impacts.
The lack of transparency by our flagship institution is wrong. Such a monumental economic and educational decision impacting the entire state must not be made in a bubble on the forty acres. Working on legislation requiring legislative approval for UT to bolt the BIG XII. #txlege

— Jeff Leach (@leachfortexas) July 22, 2021
Leach took to twitter saying, it's about much more than college sports.
"The impact UT's decision would have on communities & businesses all across Texas would be real, substantial and potentially devastating," said Rep. Leach. "On behalf of those concerned Texans, the Texas Legislature has an obligation to be involved."
Leach said he is working on legislation that would call for the legislature to have a say in the potential decision.
Copyright 2021. WBAP/KLIF News. All Rights Reserved.