(WBAP/KLIF) — Another case of attempted human smuggling at the U.S. southern border.  Security camera footage recently showed roughly 200 illegal immigrants crossing into Texas and boarding a tractor trailer. The semi then disappears into the night with a destination unknown to authorities.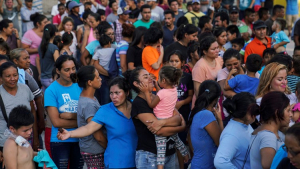 Fox's Jonathan Hunt in Laredo, Texas, says border patrol agents frequently encounter this type of human trafficking since President Biden opened the border.
Texans are hoping a Supreme Court ruling ordering President Biden to uphold the "Remain-in-Mexico" policy will curb the flood of migrants.
Listen to Fox News report:
(Copyright 2021 WBAP/KLIF Newsroom News.  All rights reserved.  Contains material from Fox News.)