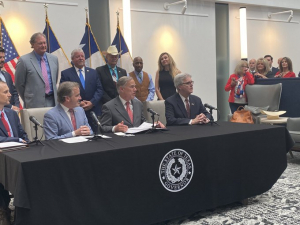 TYLER (WBAP/KLIF News) – After months of bitter fighting within the Texas Legislature, Governor Greg Abbott signed the Election Integrity bill known as Senate Bill 1 into law.
At a ceremony in Tyler on Tuesday, Abbott was joined by the bill's authors, Republican State Senator Brian Hughes and Republican Representative Andrew Murr.
Senate Bill 1, or the Election Integrity Protection Act of 2021, prompted Democrats to break quorum for months in an effort to block the bill's passage with many traveling to Washington D.C. to lobby for federal voting laws.
The bill finally passed after two special legislative sessions.
At issue for the Democrats and voting rights advocates, is the banning of 24 hour and drive-thru voting, the limiting of access to mail-in ballots, all measures that increased during the COVID-19 pandemic.
Critics have charged the bill disproportionately impacts communities of color and the disabled.
Governor Abbott defended Senate Bill 1 and urged residents to remember what it includes.
"If other states are looking for a paradigm of what is a good a approach to make sure everyone who wants to have the opportunity to do so …this is that type of bill. Not all states provide 12 days of early voting with the additional hours of early voting. People will get time off to from work to be able to cast a vote," he said.
The governor also mentioned what he said was a solution to the issue of long lines at polling places that are pushing against the deadline for ballot casting.
"As long as they show up before the polls close, even if its a one or two hour-long line, they will be able to cast their vote. Texas does make it so east to vote that this is a good paradigm for other states to follow," he said.
There are other issues regarding the bill that have raised concerns. Local election officials can face felony charges if they send unsolicited mail-in ballot application to voters.
Anyone who is helping someone fill out their ballot has to submit paperwork to  documenting their relationship to the owner.
Two lawsuits have already been filed in separate federal courts in Texas with numerous voting rights groups and activists joining the suit.
Outside the signing ceremony, a few protestors voiced concerns over the bill.
Small group opposing SB 1 outside @GovAbbott bill signing in Tyler. @WBAP247NEWS @570KLIF pic.twitter.com/BmU2erTKrt

— Clayton Neville (@ClaytonNeville) September 7, 2021
Copyright 2021. WBAP/KLIF News. All Rights Reserved.