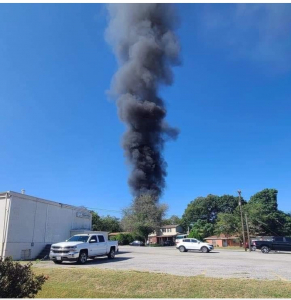 LAKE WORTH – WBAP/KLIF – Two Navy pilots are hospitalized; one in critical condition and a second in serious condition, following the crash of a Navy jet into the backyard of a home in Lake Worth on Tejas Trail.   Police responding to the calls for help from area residents say the pilots aboard ejected, with the parachute of one getting caught in power lines, and the second found a short distance away.
The crash damaged three homes; Red Cross is working with those families at the current time.  1,300 customers are reported to be without power.  Investigators are on the scene.  The Navy has asked police to alert area residents not to touch aircraft debris, especially the ejection seats, as unexploded ordnance may be in the seats.  As a result, officials are asking onlookers to keep a 100-foot distance from seats if discovered, and they are asked to call authorities for help in removing debris should it block something they require removed.  Debris from crashes are mapped by authorities as collected, for help in determining the cause of the crash and other information as it pertains to this type of investigation.
No injuries reported to anyone on the ground; the call for help came in just before 11 AM Sunday morning.
(Copyright, All Rights Reserved, WBAP/KLIF 2021)