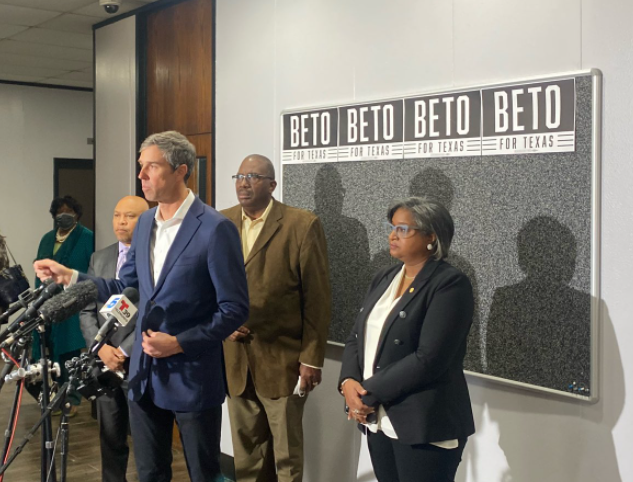 DALLAS (WBAP/KLIF)- Beto O'Rourke made a stop in Dallas during his campaign for Texas Governor.
Democratic candidate O'Rourke met with state leaders at Paul Quinn College to discuss his vision for the state. O'Rourke said that vision includes creating more jobs, increasing teacher pay, expanding Medicare and making sure everyone has the same opportunity to vote regardless of race, economic status or party affiliation.
"I'm going to implement online voter registration, implement automatic voter registration when you turn 18 and we are going to open up more polling places when I'm governor," said O'Rourke.
However Governor Greg Abbott says SB-1 ensures trust and confidence in our elections and makes it harder for fraudulent votes to be cast.
O'Rourke also bashed Governor Abbott's response to last year's winter storm and said the recent winter event didn't compare to its severity and issues with the grid have not been fixed.
"It wasn't an act of God. It wasn't Mother Nature. It wasn't the weather. It was the people in power who couldn't keep the power on for the people of Texas and until we make a change in terms of who's serving in the highest officer in this state," said O'Rourke.
O'Rourke said his big focus is to keep the lights on in Texas. "Because of his failure of leadership and failure to fix the grid moving forward we are all paying higher utilities bills $20 to $50 in addition each month . We call that the Abbott tax," said O'Rourke.

However Gov. Abbott touted his efforts to fix the grid, passing 14 laws to increase power capacity, winterize the grid and require regulator inspections and protect critical power infrastructure.

"Last week showed the resilience of the power grid thanks to the bipartisan solutions put forward by Gov.
but the success of the reforms to the TX grid didn't stop O'Rourke from fear-mongering to prop up his flailing campaign," read a statement from Governor Abbott's campaign twitter account.
Governor Abbott's campaign addresses the importance of Second Amendment rights, securing the border, the economy, getting parents involved in education, and law enforcement.