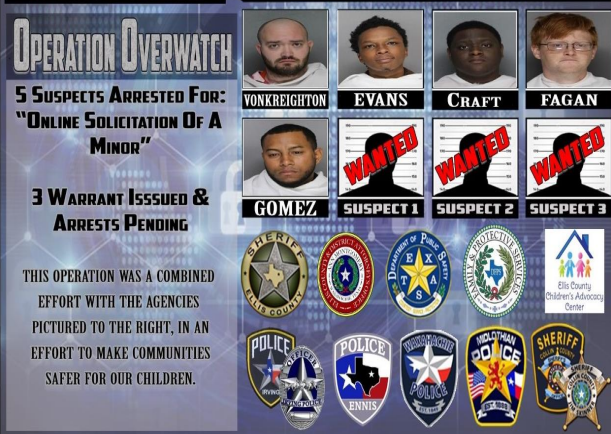 ELLIS COUNTY (WBAP/KLIF News ) – The Ellis County Sheriff's Offices' Criminal Investigations Division arrested five people as part of an undercover operation targeting those who prey on children.
"Operation Overwatch" is joint operation between nine state and location agencies.
Investigators identified eight suspects. Arrest warrants have been issued for three suspects who were not arrested during the operation.
Sheriff Brad Norman said he applauds the "commitment, attention to detail and devotion from the fine law enforcement personnel and agencies who worked to identify and capture these child predators."
The Texas Department of Public Safety, the Midlothian, Waxahachie, Ennis and Irving Police Departments, Collin County Sheriff's Office, The Department of Family and Protective Services-Ellis County, Ellis County Children's Advocacy Center and the Ellis County & District Attorney's Office worked on the case.
Copyright 2021. WBAP/KLIF News. All Rights Reserved.