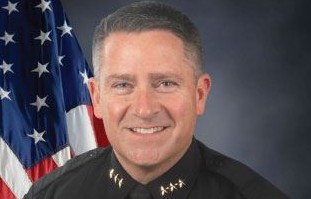 DENTON (WBAP/KLIF) – Denton City Manager Sara Hensley announced on Wednesday that she has selected Doug Shoemaker, Chief of Police in Grand Junction, Colorado, for the position of Chief of Police for the City of Denton. Chief Shoemaker is scheduled to be sworn into office and assume the duties of the Chief on October 3, pending Council confirmation.  
According to the city, Chief Shoemaker has been with the City of Grand Junction since being sworn in as Chief of Police on June 18, 2018. Prior to that, Chief Shoemaker spent over 26 years with the Jefferson City Police Department in Missouri. Chief Shoemaker has widespread experience managing and leading a variety of police units including investigations, narcotics, community services, patrol, and traffic. Additionally, he brings extensive experience as a Public Information Officer, having served in a collateral role for more than 12 years. During his time in Missouri he was involved with national and international events and outreach efforts during critical incidents, such as a mass shooting event at a manufacturing plant in his jurisdiction, the NAACP's Journey for Justice, and a march from Ferguson, Missouri, to Jefferson City to address the Michael Brown shooting that occurred in August 2014. 
Shoemaker will take over for current Chief of Police Frank Dixon, who was promoted to the position of Assistant City Manager/Director of Public Safety in March.
Copyright 2022. WBAP/KLIF News. All Rights Reserved.