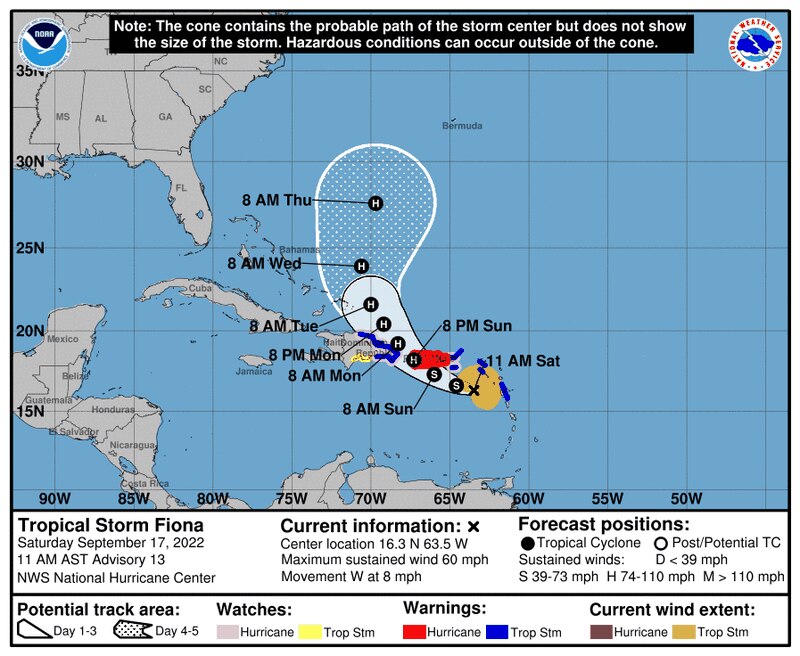 (NATIONAL HURRICANE CENTER; WBAP/KLIF) – Tropical storm Fiona, packing sustained winds of 60 miles an hour, is taking aim at Puerto Rico Saturday afternoon and overnight, with the island still suffering electrical outages and other issues from Hurricane Maria five years ago.
Fiona is expected to strengthen to hurricane force-strong winds, and dump an average 12 inches of rainfall as it passes over Puerto Rico and other islands in it's expected path, pouring an estimated 16 inches of rainfall in some isolated areas. The predicted path of Fiona is forecast to strongly impact the Dominican Republic, Haiti, both the U.S. and British Virgin Islands, and the Turks and Caicos.
Puerto Rico is still largely without electrical power following damage during Hurricane Maria five years ago. Meteorologists expect Fiona to dump an average 12 inches of water over most areas, but isolated amounts of up to 16 inches are also expected. Mudslides and flash flooding is expected across areas Fiona crosses.
(Copyright, All Rights Reserved, WBAP/KLIF 2022)