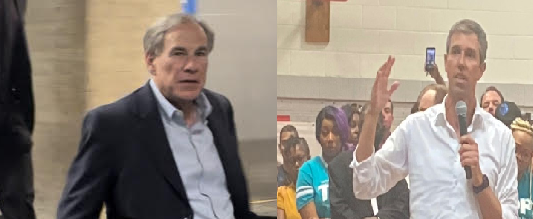 (WBAP/KLIF) – Candidates in the Texas Governor's race are campaigning with their base supporters ahead of the November election.
Democrat Beto O'Rourke announced on Wednesday that he is launching a college tour across Texas next week. According to his campaign, O'Rourke is set to hold more than a dozen public events with young Texans at colleges and universities. 
"It's young leaders all across this state who are creating the change right now in Texas," said O'Rourke. "We're showing up to bring them into our growing movement of more than 90,000 volunteers so we can get after the big things that we all want to accomplish together." 
Locally, O'Rourke plans to visit the University of North Texas, El Centro College, UT Arlington, and Baylor University.
Meanwhile, Republican Governor Greg Abbott held a roundtable discussion with state and local law enforcement on Texas' ongoing border security efforts and comprehensive approach to the growing national fentanyl crisis in Midland.
The Governor has recently campaigned with law enforcement in Houston and Fort Worth.
Copyright 2022. WBAP/KLIF News. All Rights Reserved.