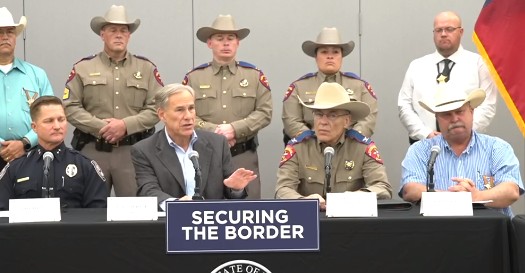 MIDLAND (WBAP/KLIF) – Texas Governor Greg Abbott signed an Executive Order on Wednesday that designates Mexican drug cartel members as terrorists in Texas.
"I also sent [a] letter to President Biden as well as Vice President Harris, demanding that they classify Mexican drug cartels operating in Texas as terrorist organizations," Governor Abbott said following a roundtable with law enforcement in Midland.
The Governor blames the Mexican drug cartels on drug smuggling that he said has led to significant jump in Fentanyl related deaths in the United States.
"Fentanyl is a clandestine killer, and Texans are victimized by Mexican cartels that produce and import it." said Governor Abbott. "So the cartels are terrorists."
The Governor directed the Texas DPS to take immediate action.
"I am directing the Texas Department of Public Safety to, among other things, identify gangs that are supporting Mexican cartels, and work to seize assets, as well as disrupt cartel networks."
The Governor is also asking schools and workplaces to stress the dangers of Fentanyl on various platforms.
Copyright 2022. WBAP/KLIF News. All Rights Reserved.