(WBAP/KLIF) — Embattled Texas Attorney General Ken Paxton suffers a loss in Federal court and has been ordered to testify in a high-profile abortion case.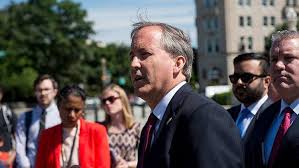 With the Supreme Court's reversal of Roe vs. Wade and the implementation of the Texas Heartbeat Bill, abortion groups have balked at assisting women seeking abortions for fear of prosecution. In a lawsuit by Texas Abortion Funds, a Federal judge has ordered Paxton to testify on how his office plans to enforce the law. The Attorney General had attempted to avoid testifying, but U.S. District Judge Robert Pittman made the ruling, Tuesday, instructing Paxton to appear and clarify how his office will enforce the state's sweeping new abortion ban.
Texas Abortion Funds is seeking protections to allow the group to resume paying for flights, hotels and other expenses to assist residents in traveling out of state for abortions. According to the Dallas Morning News, Paxton can challenge the decision by appealing to the U.S. 5th Circuit Court of Appeals.
Listen to WBAP/KLIF report:
(Copyright 2022 WBAP/KLIF Newsroom News. All rights reserved. Contains material from the Dallas Morning News.)