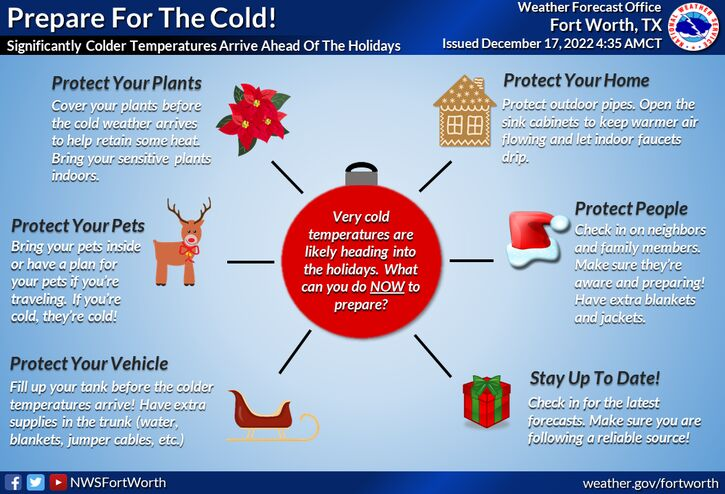 WBAP WX CENTER FORECAST 12-19-22
TODAY…CLOUDY, BREEZY AND COOL WITH
INTERMITTANT SPOTTY SHOWERS..
HIGH NEAR 48
WINDS SOUTHEAST 10-20 MPH
TONIGHT..RAIN ENDING..STILL CLOUDY OVERNIGHT..
LOWS 38-42
TOMORROW…PATCHY FOG IN THE MORNING..
MOSTLY CLOUDY AND MILDER BY AFTERNOON..
HIGH NEAR 50 / LOW NEAR 37
WINDS NORTH 5-10 MPH
WEDNESDAY..MOSTLY CLOUDY AND COOL..
HIGH NEAR 52 LOW NEAR 42
THURSDAY…PARTLY CLOUDY, VERY WINDY AND
TURNING SHARPLY COLDER DURING THE DAY.
HIGH NEAR 45 (MIDNIGHT)
TEMPERATURES FALLING INTO THE 20'S DURING THE AFTERNOON..
WIND-CHILLS NEAR ZERO BY DARK
OVER NIGHT LOWS BETWEE 8 AND 12 DEGREES
WINDS NORTH 35-45 MPH AND GUSTY
FRIDAY..PARTLY CLOUDY, WINDY AND COLD..
HIGH NEAR 24 / LOW NEAR 16
WINDS NORTH 20-35 MPH AND GUSTY