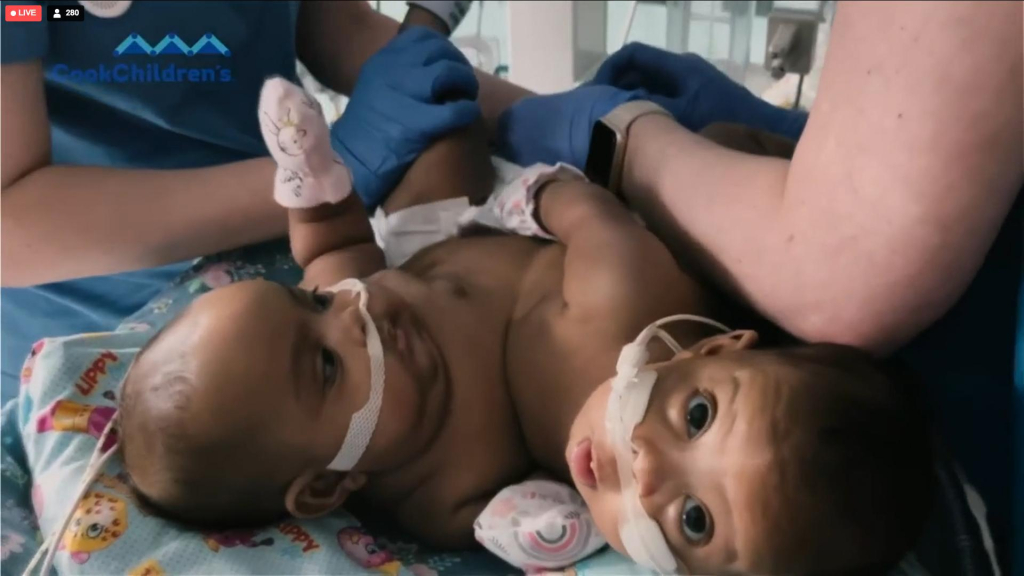 (WBAP/KLIF) — For the first time in its 105 year history, Cook Children's Medical Center separated conjoined twins.
Amie Lynn Rose and Jamie Lynn Rae were born on October 3rd of 2022, joined at the waist and abdomen.
A team of 25 medical professionals planned for three months to separate the two and did so with success earlier this week.
The surgery took 11-hours to separate sisters Amie Lynn Rose and Jamie Llynn Rae of Fort Worth.
Lead surgeon Jose Iglesias said he was thrilled with the entire team for the success of the surgery.
Parents James and Amanda Finley struggled to contain their emotions as they described seeing their daughters apart for the first time.
Doctors say the girls have a long road ahead, but the prognosis is good.
Conjoined twins are rare with only 1 in 200,000 births and only 5 to 8 surviving after birth.
Listen to WBAP/KLIF report:
(Copyright 2023 WBAP/KLIF Newsroom News. All rights reserved.)