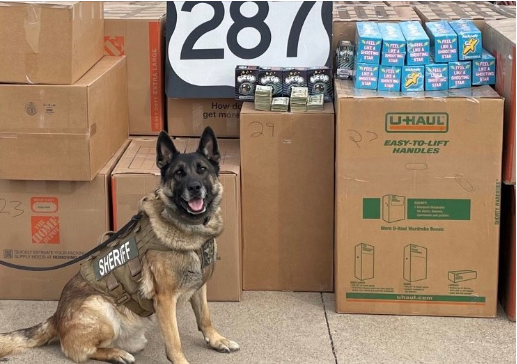 WISE COUNTY (WBAP/KLIF News ) – The Wise County Sheriff's Department said its K-9 Unit made a recent $1.7 million dollar drug bust.
According to the department's Facebook post, Sheriff Lane Akin said a deputy observed a white Tacoma pickup truck pulling a U-Haul van trailer while on patrol along Highway 287.
The vehicle was swerving from lane to lane and driving on the rumble strips. The deputy pulled the truck over and spoke with the driver, who seemed "exceedingly nervous."
According to Akin, the driver, 33-year-old Suradit Paketthong, claimed he was on his way to a funeral in Southeast Texas and said the passenger, 66-year-old Ares Boonhome, was his grandmother. The pairs identities were confirmed by our media partner WFAA TV.
However, when Boonhome spoke with the officer, Akin said she and her "son", who are both from Temehula, California, were traveling to Tennessee.
She claimed the trailer was filled with furniture. When K-9 Benni arrived on the scene, he and his handler did a quick pass by the trailer and alerted on wafting scents.
When the deputies opened the trailer they found 31 moving boxes sealed with packing tape but no furniture.
Instead, deputies found 840 pounds of vacuum sealed marijuana, 242 pounds of edible candy bars infused with Psilocybin Mushrooms (hallucinogens), and eleven hundred (2.5 lbs.) THC vape cartridges.
The pair were jailed on several charges of possession of controlled substances. Bond is set at $70,000 each.
Copyright 2021. WBAP/KLIF News. All Rights Reserved.