Donations for those impacted by the deadly tornadoes are being accecpted by the Mississippi/Alabama Red Cross.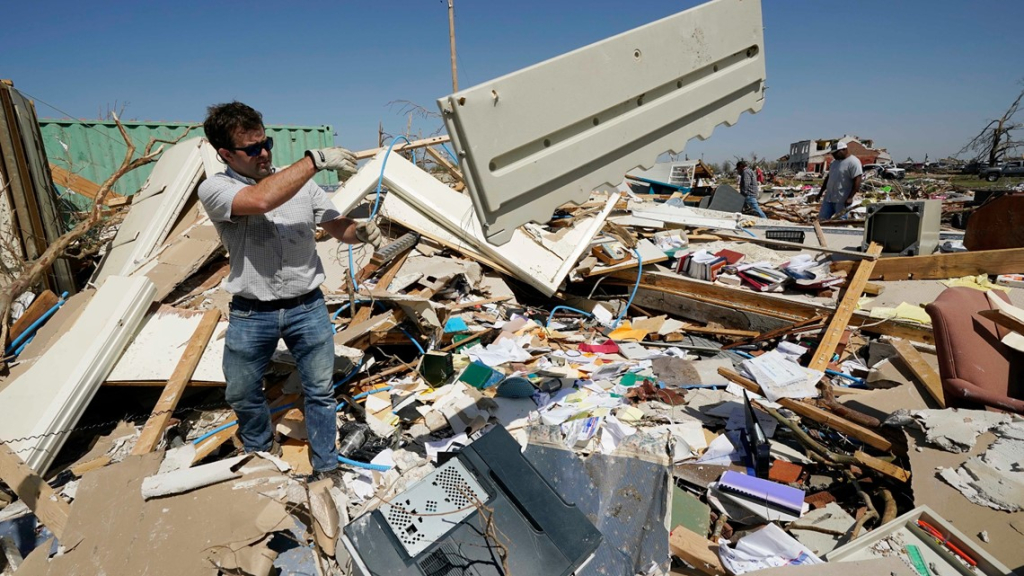 ROLLING FORK, Miss. (AP) — A massive tornado obliterated the modest one-story home that Kimberly Berry shared with her two daughters in the Mississippi Delta flatlands, leaving only a foundation and some random belongings — a toppled refrigerator, a dresser and matching nightstand, a bag of Christmas decorations, some clothing.
During the storm Friday, Berry and her 12-year-old daughter huddled and prayed at a nearby church that was barely damaged, while her 25-year-old daughter survived in the hard-hit town of Rolling Fork, some 15 miles (24 kilometers) away.
Berry shook her head as she looked at the remains of their material possessions. She said she's grateful she and her children are still alive.
"I can get all this back. It's nothing," said Berry, 46, who works as a supervisor at a catfish growing and processing operation. "I'm not going to get depressed about it."
Like many people in this economically struggling area, she faces an uncertain future. Mississippi is one of the poorest states in the U.S., and the majority-Black Delta has long been one of the poorest parts of Mississippi — a place where many people work paycheck to paycheck in jobs tied to agriculture.
Two of the counties walloped by the tornado, Sharkey and Humphreys, are among the most sparsely populated in the state, with only a few thousand residents in communities scattered across wide expanses of cotton, corn and soybean fields.
Sharkey's poverty rate is 35%, and Humphreys' is 33%, compared to about 19% for Mississippi and under 12% for the entire United States.
"It's going to be a long road to recovery, trying to rebuild and get over the devastation," Wayne Williams, who teaches construction skills at a vocational education center in Rolling Fork, said Sunday as people across town hammered blue tarps onto damaged roofs and used chainsaws to cut fallen trees.
The tornado killed 25 and injured dozens in Mississippi. It destroyed many homes and businesses in Rolling Fork and the nearby town of Silver City, leaving mounds of lumber, bricks and twisted metal.
The local housing stock was already tight, and some who lost their homes said they will live with friends of relatives. Mississippi opened more than a half-dozen shelters to temporarily house people displaced by the tornado.
(Associated Press)