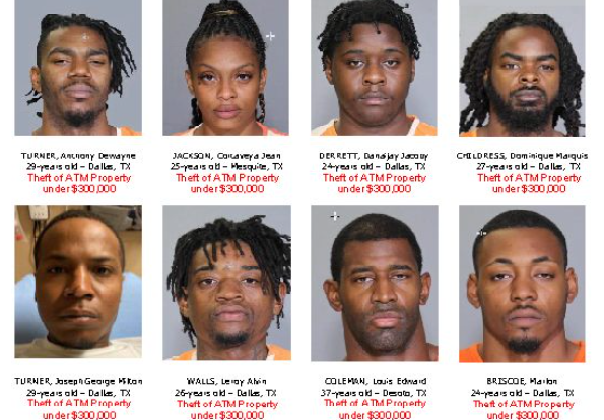 PLANO (WBAP/KLIF) – The Plano Police Department arrested 8 people this month in connection to a recent string of ATM theft in the metroplex.
According to Plano PD, on June 1, at approximately 6:00 a.m., investigators and SWAT Officers arrested eight suspects accused of actively burglarizing an ATM machine at a 7-Eleven convenience store in the 900 block of Fort Worth Drive in Denton. Following the burglary, the Denton Police Department was contacted to assist in the investigation of this offense.
According to Police, the arrests were the result of a multijurisdictional operation whose goal was to bring these suspects to justice.
"It is anticipated that these arrests will result in the clearance of more than fifty separate ATM theft offenses for many of the DFW-area law enforcement agencies," read a statement from Police.
Prior to the recent arrests, Plano Police detectives had received information about an ATM burglary that occurred at a 7-Eleven convenience store on May 25, at approximately 6:20 a.m. in the 3600 block of 14th Street in Plano. During the burglary, Police said five unknown suspects backed a pickup truck up to the front of the store and smashed the window. As the store clerk stood behind the counter, the suspects wrapped a chain around the machine and forcefully tore the ATM from the store using the pickup truck, stealing an unknown amount of cash in the process. The damage was extensive and expected to be several thousands of dollars to repair. The suspects then fled the scene in the pickup truck. The truck, reported stolen from Garland. was later discovered abandoned at a nearby apartment complex.
During the investigation of the burglary committed in Plano on May 25th, investigative leads were developed, which resulted in detectives identifying several suspect vehicles and determining specific methods used in these organized ATM burglaries.
Plano detectives also discovered similar offenses at various locations throughout the DFW Metroplex. Multiple agencies where these burglaries had occurred were contacted to assist in the investigation.
As a result, detectives from Plano, Coppell, Dallas, Euless, Frisco, Garland, Grapevine Police Departments, and the Department of Public Safety, as well as a 7-Eleven Zone Asset Protection Manager, began the collective investigation, which ultimately led to these arrests.
Plano investigators arrested the individuals listed below, and they were all charged with a 2nd-degree felony theft of an automated teller machine less than $300,000. They are currently being held in the Denton County Jail, and additional charges are expected in the near future due to the ongoing investigation.
Copyright 2023. WBAP/KLIF News. All Rights Reserved.