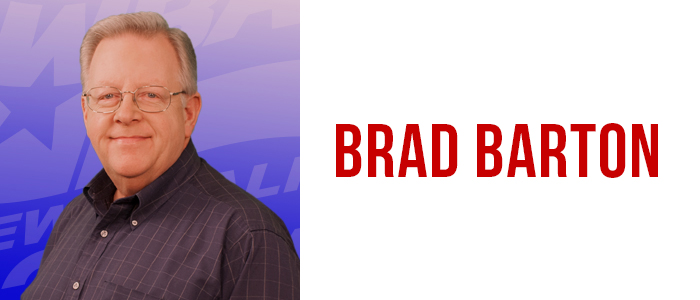 Brad Barton, Chief Meteorologist of WBAP since 2009, has been recognized by city and state officials for his broadcasting career spanning 4 decades in the Dallas/Fort Worth area.  His most-cherished award is the "Key to the City" of Lancaster, Texas for his early warning of the 1994 F-4 tornado that destroyed the town square and dozens of homes, but resulted in  minimal loss of life.
Born and raised in Kansas, Brad is no stranger to "Tornado Alley."  Before graduating from MSU's Broadcast Meteorology program, Brad racked up over 2,000 flight hours as a DFW traffic pilot.  His unique knowledge of the North Texas landscape, as well as North Texas weather, makes Brad the voice of calm authority whenever severe storms, floods and tornadoes threaten the DFW Metroplex and a dozen surrounding counties.  Along with Hal Jay, Brad Barton is an inductee of the Texas Radio Hall of Fame.
Brad can be heard every weekday morning between 5 and 9 during the WBAP Morning News and any time severe weather threatens the area 24/7.  You can also follow Brad on Twitter @BradBartonDFW.