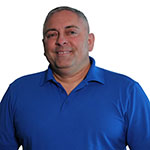 Mike grew up in St. Louis, MO, without a plan…until his high school buddies got tired of him announcing their street hockey games and told him to get a job as a radio play-by-play announcer. 
That's exactly what he did, as he enrolled into a radio broadcasting school, moved across the country, and ended up calling college football and basketball games for 20 years in Utah and Idaho. 
Mike moved to Texas and joined the WBAP News Team in 2019. 
He has thoroughly enjoyed living in DFW, is a strong supporter of law enforcement, the armed forces, DFW sports teams (Stars, Mavs, Cowboys, Rangers), and treasures time with family & friends. 
His passion lies in connecting with North Texas residents and sharing their stories on the airwaves.